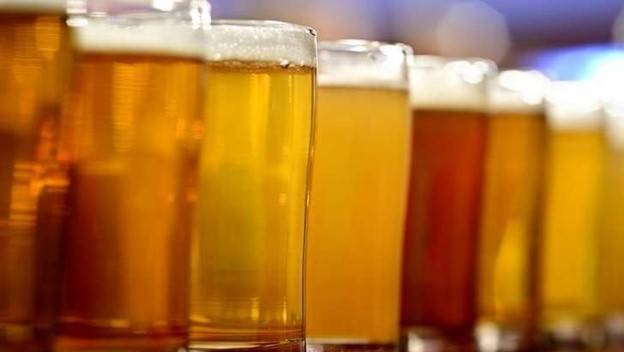 Carbon dioxide is a powerful and essential part of the beer-making process (and when creating excellent kombucha, if that's more your speed). Not only does CO2 help beermakers achieve the right foam head whenever a beer is poured, but the addition of CO2 has significant impacts on a beer's acidity and taste. Needless to say, having the best keg CO2 regulator can make all the difference.
Whether you're an avid home brewer or you own and regulate beer kegs for breweries, restaurants, and other venues, approaching the job with the best equipment is crucial. Consider the following list of the best keg CO2 regulators recommended by the professionals.
What Do Beer Keg CO2 Regulators Do?
A beer keg CO2 regulator is all about control. Every good brew master knows that the amount of carbon dioxide infused into a batch of beer will affect the taste, acidity, and foaminess of the finished product. Regulators provide direct control over how much CO2 flows into the mix.
When using a professional grade CO2 regulator, you can easily influence factors like:
Pressurization and carbonation of closed bottles or cans (beer and kombucha)

Overall mouth feel of each beer or flavor

The ability to prevent an overly malty or sweet-tasting beer

The airy texture of each unique batch or craft recipe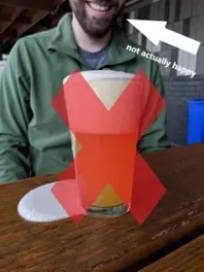 What to Look for in a Beer Keg CO2 Regulator
When browsing the market for the best beer keg CO2 regulators, many brewmasters stick to a few important criteria. These criteria relate to the control, quality, and durability of each regulator. Many CO2 regulators recommended by the pros have features such as:
Ease of use (regardless of the level of experience)

Safety mechanisms for controlling pounds of pressure per square inch

Long-lasting and strong materials

A reliable warranty for extended use

Parts that are manufactured and sold within the United States

Versatility for different types of tanks and brew projects
Single vs. Dual Gauge CO2 Regulators
When purchasing a CO2 keg regulator, you'll quickly notice that some have one gauge and others have two. It's important to note that certain regulators monitor different outputs. In a dual gauge setup, you're able to monitor both the amount of pressure that's being released into the beer and the amount of pressure within the carbon dioxide tank itself.
Single and dual gauge regulators have different price points and features. When deciding between the two, consider the amount of control you need for different areas.
Top 10 Keg CO2 Regulators
As you search for the best keg CO2 regulators, you'll discover many different brands, models, and customizations. Check out the list below for 10 professional-grade regulators to meet your commercial or home brewing needs.
SPARC Premium Dual Output CO2 Regulator
SPARC Welders offers a professional grade Dual Output CO2 regulator that provides three premium gauges for monitoring your working pressure and tank pressure. This model is easily adaptable to different types of projects. In fact, it's specifically designed for use with two-tank beer or kombucha setups.
As with other SPARC products, the Dual Output CO2 regulator offers quick installation, heavy duty parts, and a 2-year extended warranty.
---
Taprite T742HP Primary Double Gauge CO2 Regulator, Brass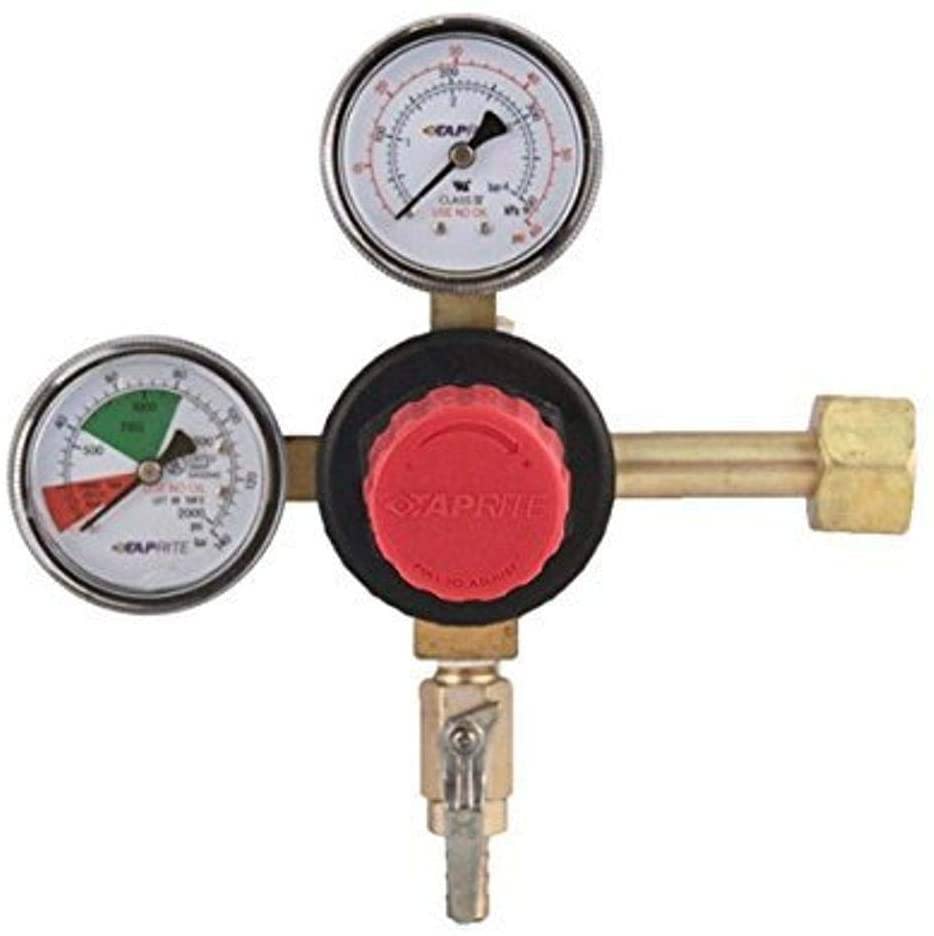 Taprite's T742HP Primary Double Gauge CO2 Regulator is another American-made choice. This low pressure regulator is adaptable for use on any CO2 tank with a CGA-320 valve, and it removes the guesswork of knowing when to refill your carbon dioxide supply.
The unique components of this regulator help the user know when parts should be replaced, and it helps beermakers quickly find the source of potential CO2 leaks.
---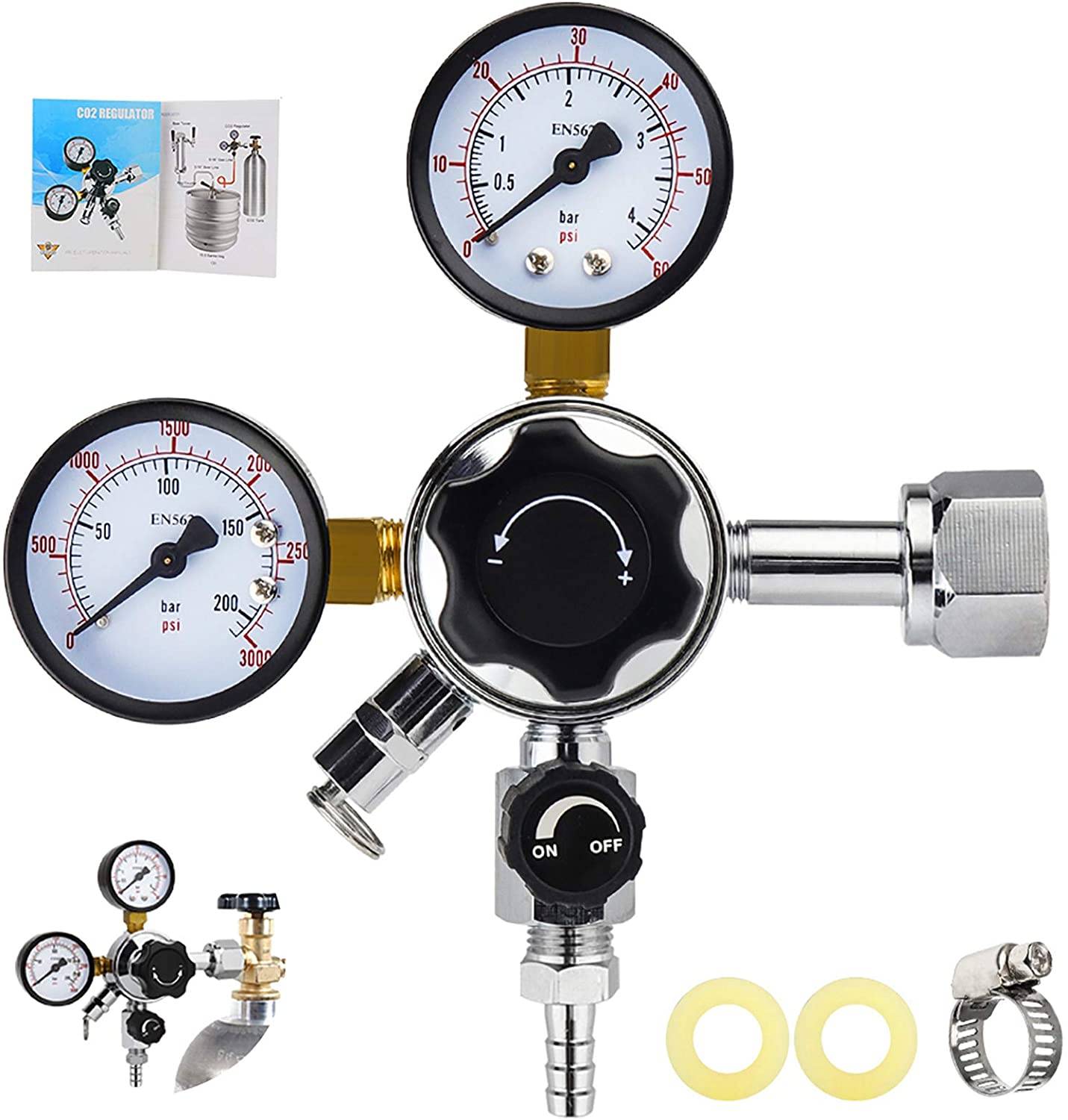 The MRBrew Keg Regulator is a budget-friendly option that comes in at under $50 but still offers some brewery-grade features with maximum control. This regulator features a safety relief valve and a gas shut-off valve. These components are perfect for quick and convenient adjustments, which is especially useful if you're serving many glasses of beer in a short time.
MRBrew also provides hands-on customer support for questions, concerns, and product issues
---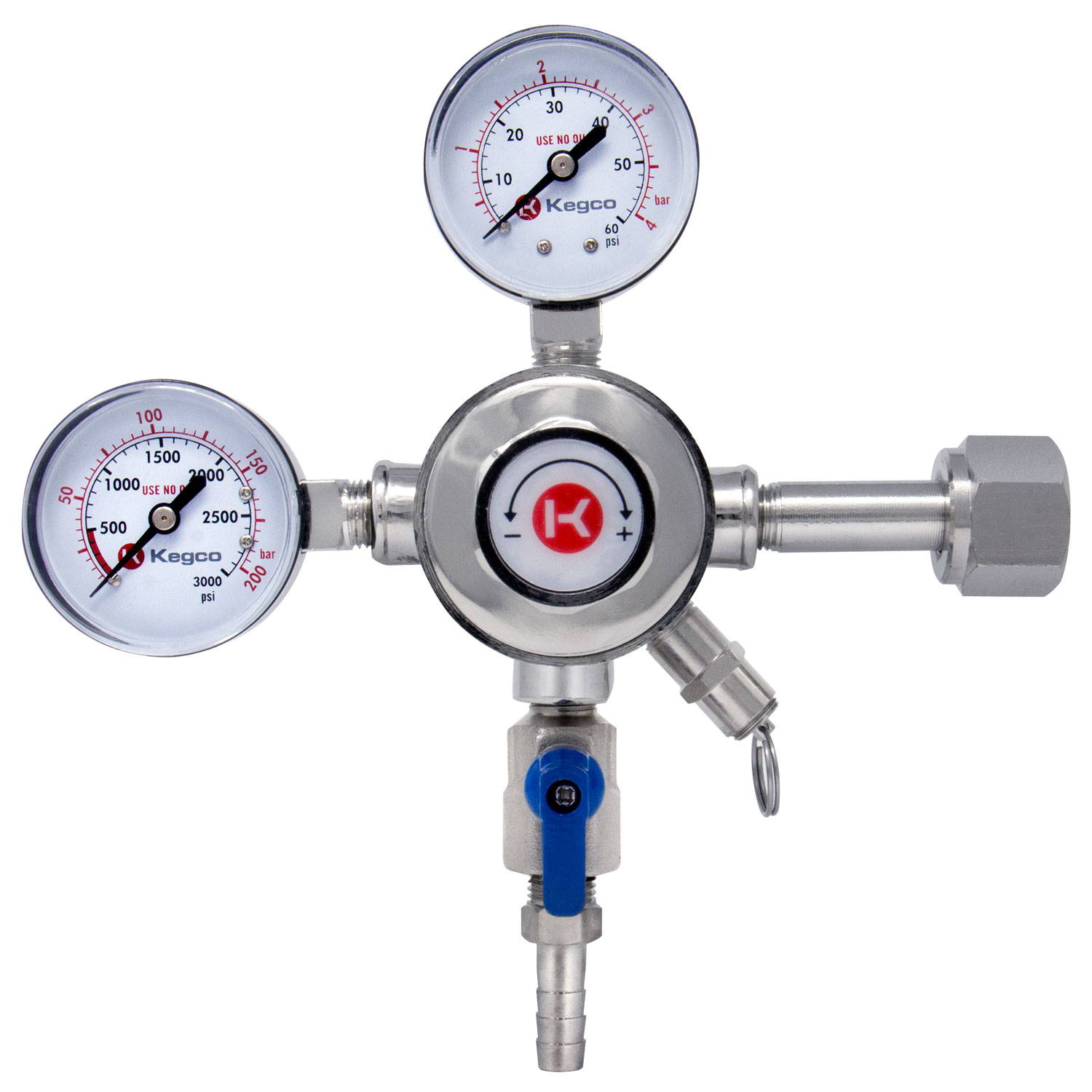 The Kegco 542 is a professional CO2 regulator product made of chrome plated brass. The large face of each gauge and adjustment knob makes this style a user-friendly choice, as the settings can be changed by hand without extra screwdrivers and tools. The model's shut off valve encourages safe gas distribution and prevents gas line backups, which can cause extra hassle or repairs to your brewery setup.
---
SPARC Premium CO2 Regulator and Gauge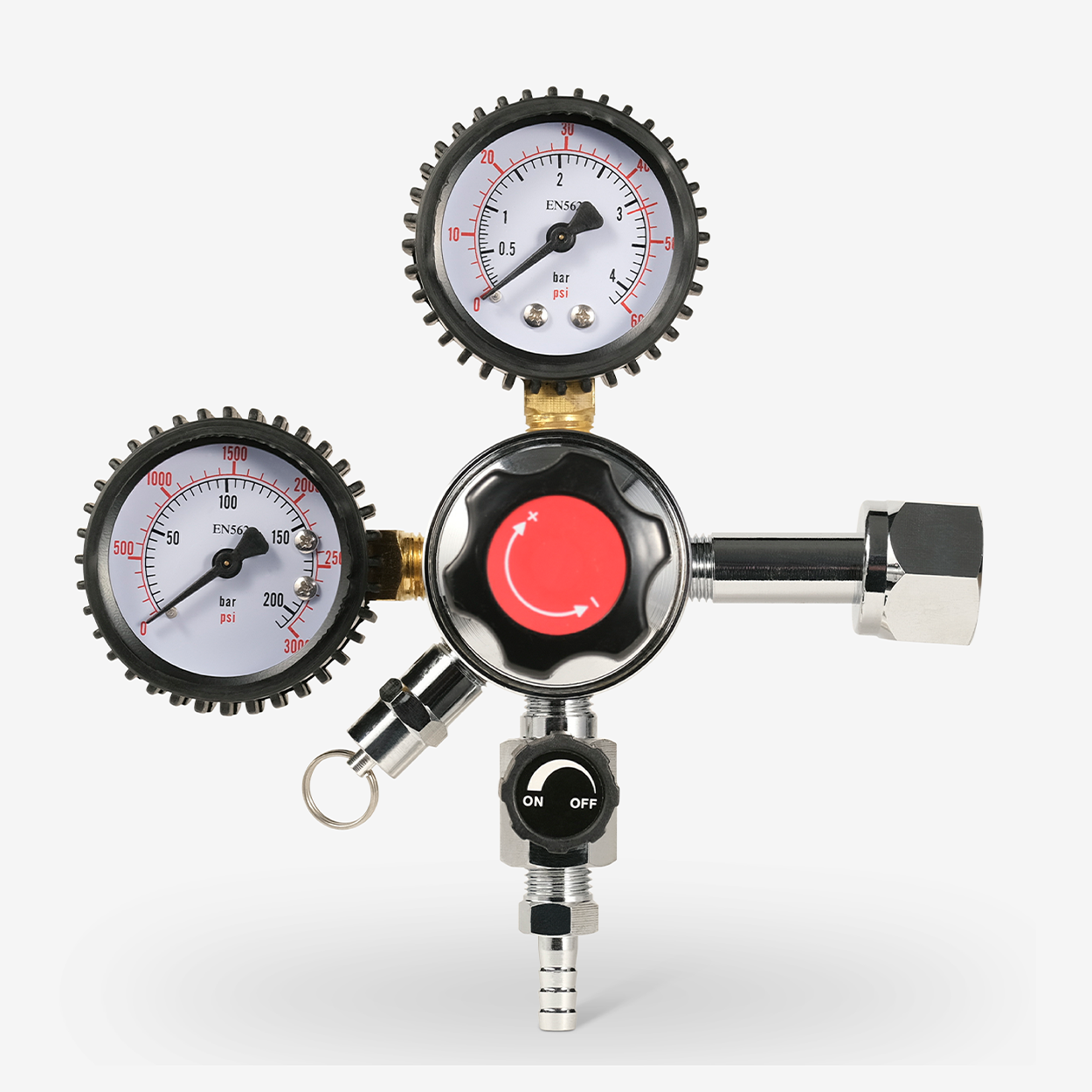 This second choice from SPARC Welders is a Premium CO2 Regulator and gauge designed especially for draft beer, kombucha, and similar beverage setups. Since versatility is an important part of regulating, this option helps you achieve perfect CO2 balance in a variety of keg sizes, half barrels, and quarter barrel units.
Additionally, this product comes with heavy duty gauges built to professional standards, with the added bonus of being able to make manual adjustments. A reliable 2-year warranty protects against any manufacturing defects.
---
TerraBloom Dual System 2 Stage Pressure Regulator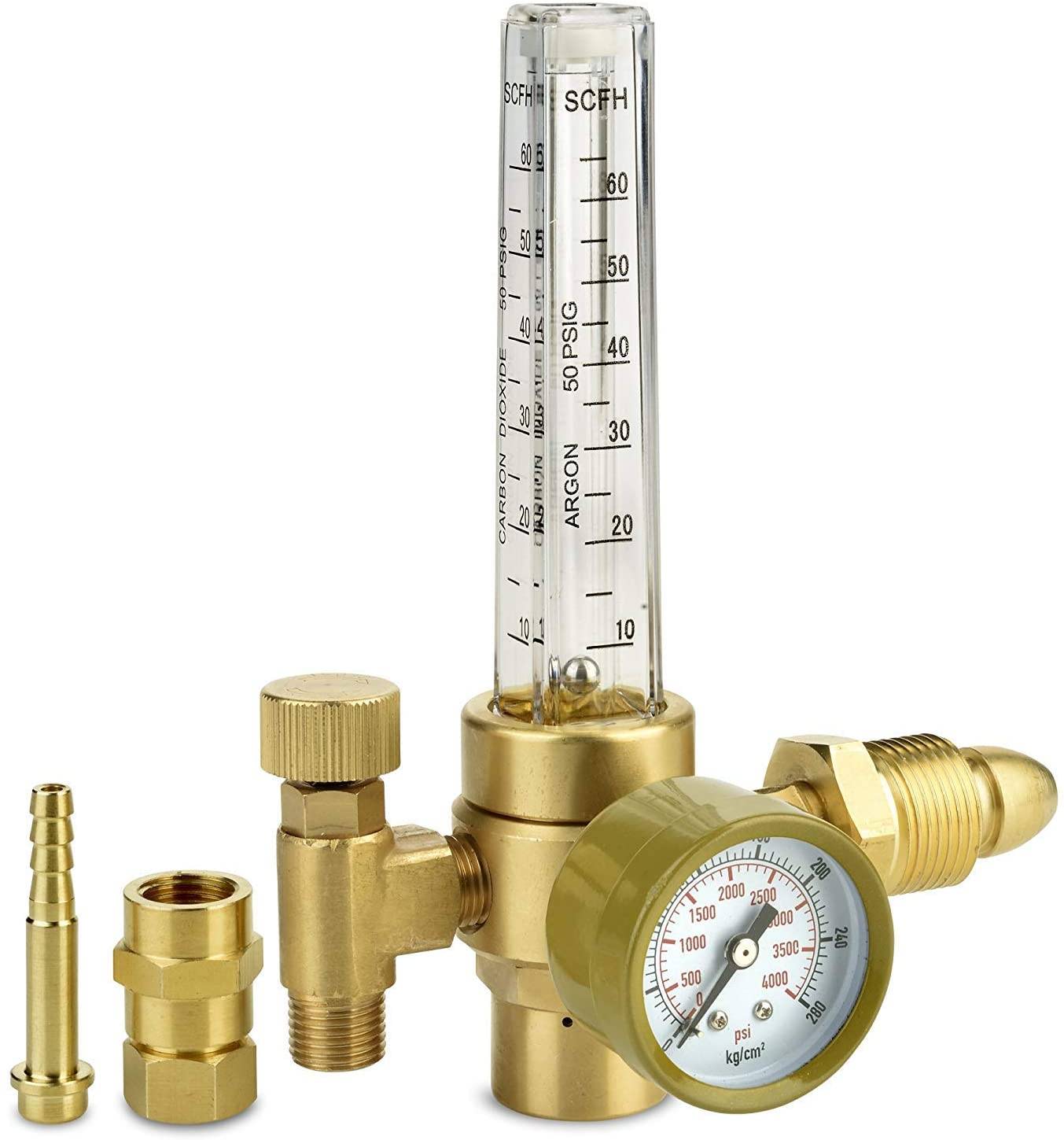 The TerraBloom Dual System 2 Stage Pressure Regulator is a triple gauge system. This means that you can use this regulator on two separate systems while simultaneously monitoring CO2 tank pressure. Installation is easy and straightforward, and all you need to get started is an adjustable wrench.
Although the TerraBloom product is made of durable materials and is easy to read, the product only comes with a 30-day warranty for manufacturing defects.
---
FERRODAY Dual Gauge CO2 Draft Beer Regulator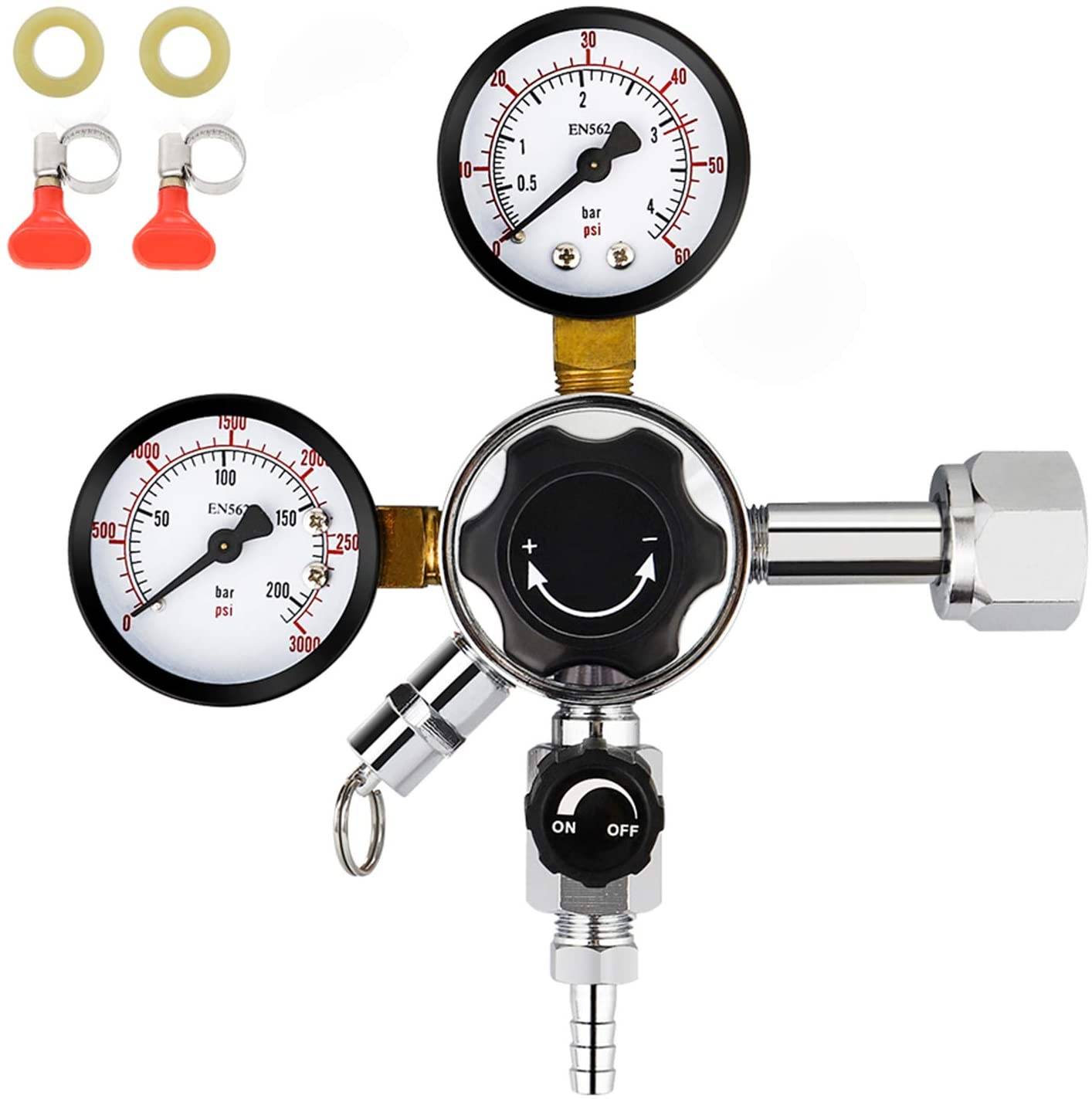 This regulator choice from FERRODAY is highly rated by customers, budget-friendly for various project needs, and constructed with heavy duty forged brass. One of the major selling points of this particular regulator is that it has pristine tank washers and relief valve gaskets, which both prevent troublesome gas leaks.
A unique component of this regulator is that it contains a built-in sintered metal filter to keep potentially harmful contaminants out of the regulator and away from your brew.
---
KOMOS® Dual Gauge CO2 Regulator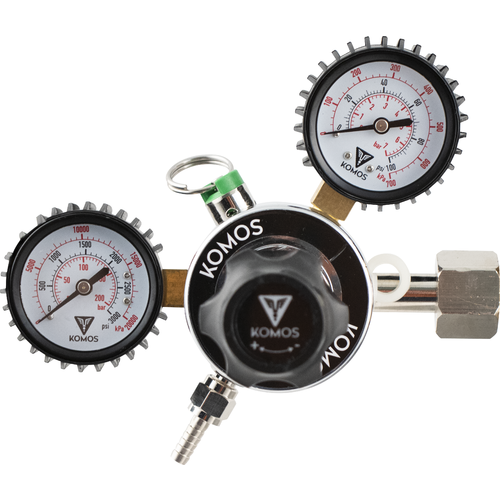 The Dual Gauge CO2 Regulator from KOMOS® is best recognized for its size, structure, and durability. The gauge has a robust design that promotes and supports heavy use for years to come. Each gauge is made of extra thick stainless steel and comes with rubber bumpers for an added layer of added protection and durability.
---
TOF Premium Single Product CO2 Draft Beer Regulator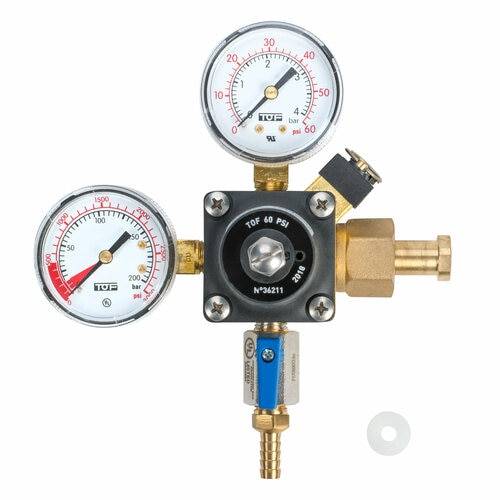 The TOF beer keg regulator is an Italian-made product that helps users troubleshoot craft beers that are too flat or overly foamy. The dual gauge design monitors the PSI of each brew in addition to helping you maintain accurate pressure within the tank.
To adjust the pressure using the TOF gauge, you'll need a flathead screwdriver to tighten the nut and lock. Although a bit more hands on, this option is constructed with high quality materials and is useful for preventing over-pressurization and ruptured tanks.
---
High Performance Double Gauge CO2 Regulator with Polycarbonate Bonnet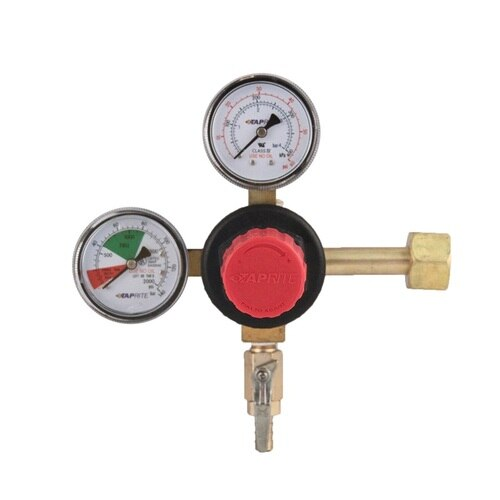 Whether you maintain a home brew system or have a full commercial setup, the High Performance Double Gauge is approved by well-known brands like Pepsi and Coca Cola. The design is uniquely suited to handle high flow systems, which are the standard in commercial brewing.
This regulator is unique in that it is made from polycarbonate materials, which makes it more resistant to corrosion and damage from wet environments when compared to other regulators. It also has a short stem and high flow outlet valve in order to regulate CO2 without freezing the gauge mechanism. This feature makes it handy for multi-product systems that require secondary regulation, like in multi-brew setups or soda machines.
---
---
Find the Right CO2 Regulator for Your Needs
Choosing the right CO2 regulator can be a gamechanger for your brewery or home brew system. With the ability to regulate an ingredient like CO2, you have the opportunity to create a winning combination of taste, acidity, and texture that's pleasing to both you and your patrons.
Investing in high quality CO2 regulators will make all the difference as you upgrade your beer and kombucha brewing techniques.